Download the Inbound Marketing Funnel
Inbound Marketing is zelf zorgen voor een grote instroom van bezoekers naar je website, en hen converteren naar klanten.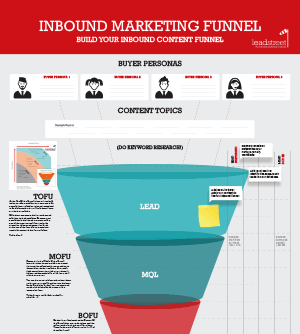 Met Inbound Marketing zorg je zelf voor een grote instroom van bezoekers die je kan converteren naar klanten. Dat doe je met sterke, relevante en authentieke content, met de bedoeling een salesgesprek aan te gaan met je prospecten.
Bouw je funnel met deze downloadbare sheet
Er zijn tal van redenen waarom een Inbound strategie niet volledig kan zijn. Gebruik deze funnel als basis om volgende elementen toe te voegen / te controleren:
Buyer Persona
Content Topics
Top, Middle and Bottom of the Funnel
Lead nurturing
Lead scoring
...