Download the Inbound Marketing Funnel
Inbound Marketing is zelf zorgen voor een grote instroom van bezoekers naar je website, en hen converteren naar klanten.
Met Inbound Marketing zorg je zelf voor een grote instroom van bezoekers die je kan converteren naar klanten. Dat doe je met sterke, relevante en authentieke content, met de bedoeling een salesgesprek aan te gaan met je prospecten.
Download nu deze funnel: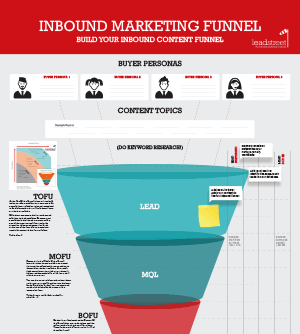 Bouw je funnel met deze downloadbare sheet
Een Inbound funnel bevat volgende elementen:
Onderzoek van je Buyer Persona
Keyword research
Content topics
Content voor elke fase
Daarnaast geeft een funnel je inzicht voor je website:
Wat zijn de CTA's die je op je site moet plaatsen (en waar)
Moeten we topics in onze navigatie of footer opnemen
En ook inzicht in je Inbound Marketing
Lead scoring: hoe moeten we gedrag scoren?
Lead nurturing: wat is de volgende stap die we een prospect kunnen aanbieden
Wij hebben hiervoor een handige Inbound funnel cheat sheet gemaakt, die al deze elementen visualiseert.