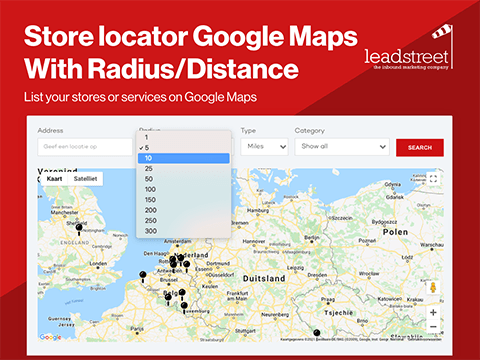 Product Name: HubSpot Store locator on Google maps with Radius/Distance
Internal Name: LS Store Locator on Google Maps with Radius
Description: Does your company have branches in different physical locations that you want to show at a glance at Google Maps? Or do you offer different services at various locations? And do you need to list all of your stores or services on Google Maps and be able to show the nearest locations of a certain category? With our HubSpot Store locator with radius-module, you can do so, without a costly subscription.
This module needs a Google API key with :

Google Maps Javascript API,
Google Maps Places API &
Google Maps Distance Matrix API



To populate your store you can use:

the repeatable element of the module (good for a limited set)
list the stores in a json format (good for a moderate number of stores)
leadstreet can link the module to HubDB(*) (good for a large number of stores)
(*) a one time setup-fee will be charged to link the module to a HubDB
Read more about Leadstreet's Store locator module in this blog article.